The Ford Probe GT and Mazda MX6 were blessed with excellent stopping ability from the factory, recording stopping distances of a mere 116 feet from 60 mph. Unfortunately, this type of stopping power can only be mustered a few times before stopping distances increase substantially.
This "fade" results from overheating the rather modest factory 10.2" front rotors. As such, if you are one of those individuals that enjoys driving in the mountains, competing in autocross events, or taking excursions onto the racetrack, you'll find yourself rapidly exceeding the capacity of the factory braking system to slow your car down safely.
Many owners have subsequently added drilled or slotted rotors, performance brake pads, high temperature brake fluid, and stainless steel braided brake lines in and attempt to prolong their braking performance under extreme circumstances (such as those mentioned above).
Ultimately, many will find that these modifications are just not adequate for the kind of use that their cars are occasionally subjected to. It is for these types of users that we at Hye-Dra-Cyl have developed the brake upgrades that you see below.
After upgrade, you will experience NO deterioration in brake performance - even after repeated application in the most demanding of circumstances. How do we know this? Because we equipped a Probe GT with this upgrade and sent it out onto some of the most demanding racetracks in our area for testing. Our test vehicle attacked tracks such as Gateway International Raceway, Gingerman Raceway, Hallett Motor Racing Circuit, Heartland Park, Limerock Park, Mosport International, Nelson Ledges Road Course, Sebring, Virginia International Raceway, and Road Atlanta without a single incident of brake fade - lap after lap after lap.
If your serious about your brakes, than this is the upgrade for you. During development, we at Hye-Dra-Cyl elected to adapt commonly available race components (from a highly respected major manufacturer) for use on your Probe or MX6. By using these types of parts, we have assured that you will be able to obtain replacement brake pads from the manufacturer, any of their representatives, or even your favorite pad house!
Though these parts were designed for race use, they have served without difficulty on many a street car over the years without difficulty. Think about it, wouldn't a race car part have more demanded of it than a comparable street part?
Benefits from this upgrade include:
Shorter Stopping Distances
Repeatable, Fade Free Performance
A Reduction in Unsprung Weight
Lighter Brake Pedal Pressures Required for Stopping
Better Brake Pedal "Feel"
Please take this opportunity to examine the information that we have provided on our brake upgrades and decide for yourself what kind of performance you want your Probe or MX6 to have. We hope that you will agree that what we are offering is the best available option for you, the user, and you will elect to equip your car with one of our systems.
Sincerely,
Greg Hagopian
President
Hye-Dra-Cyl L.L.C.

Photos of our pre-production setup and installation:

Photos of our production configuration setup prior to installation:
This kit features the following parts for a price of $1150:
12.2" Rotors (0.81" thick with 32 straight cooling vanes standard)
4 Piston Racing Brake Calipers (major manufacturer)
Braided Stainless Steel Brake Lines
Brake Pads (for street or Solo II use)
Mounting Brackets and Hardware
Installation Instructions
Additional Cost Upgrades Include:
Slotted 12.2" Rotors ($50 extra)
Heavy Duty Brake Pads for Solo I or Track Use ($23.22)
1.25" Thick Rotors with 32 Curved Cooling Vanes ($14.88)
1.25" Thick Rotors with 48 Curved Cooling Vanes ($60.62 - shown below)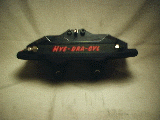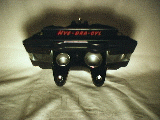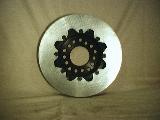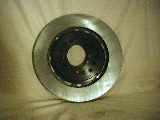 Sorry, This portion of the Hye-Dra-Cyl Home Page has not yet been completed. Try this feature again in the future for more updates. Thank You.