NEW STAINLESS STEEL BRAKE CYLINDERS
NOW AVAILABLE FOR ALL AUTOMOBILES USING DUNLOP DISK BRAKES!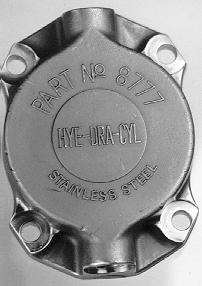 Our cylinders are new, not rebuild or sleeved, and feature a lifetime guarantee against failure!* (Made in the USA

)

Castings and all internal components made from T304 Stainless Steel to ensure a lifetime of corrosion free operation

Our castings are form, fit, function replacements for your existing Dunlop Disk Brake Cylinders, but feature an advanced piston design for longer life and OEM rubber.

Increased braking capacity and lighter brake pedal pressures required when using our "higher performance" interchangeable models

All parts shipped from stock for immediate delivery!

Our Internet Only Price, $219 each...** (Payment via Certified Check, Money Order, Paypal, or C.O.D. accepted at the address shown below)
* Metal parts only
** Standard sizes (Other prices slightly higher). Pricing is for non-EU customers only.
Those in the E.U. are requested to contact our exclusive stocking distributor, Classic Car Tuning, at info@classiccartuning.com for pricing information.


Distributor Inquiries Wanted!
---
Reach us by E-Mail

or write to us at:

Hye-Dra-Cyl L.L.C.
804 Woolwick Ct.
St. Charles, MO 63304
(314) 303-6705 (Phone)
(636) 922-0711 (FAX)
hyedracyl@yahoo.com

---